Blue Hill Slovenia
Regular price
Sale price
€4,90
Unit price
per
Sale
Sold out
Lavender natural soap for dry and sensitive skin is perfect for anyone who has problems with dry, irritated skin that needs careful care. You can use it both for the face and the body. Lavender natural soap is fuperfat, which means that there is still between 6 and 8% of unbound fat in the soap, which is why the skin is soft and supple after washing.
It does not contain stabilizers, preservatives and artificial colors.
Dry the soap after use to prevent further melting.
Net: 100g (±5%)
Composition
INCI ingredients: SODIUM OLIVATE, LAVANDULA ANGUSTIFOLIA FLOWER EXTRACT, CHAMOMILLA RECUTITA FLOWER EXTRACT, SODIUM COCOATE, GLYCERIN, AQUA, LAVANDULA HYBRIDA OIL, LAVANDULA ANGUSTIFOLIA FLOWER, LINALOOL* *component of essential oil
Return of product and purchase price
When purchasing in an online store, you can request a refund of the product and purchase price within 14 days of receipt. The product must be undamaged and unused, packed in the original packaging.
Share
View full details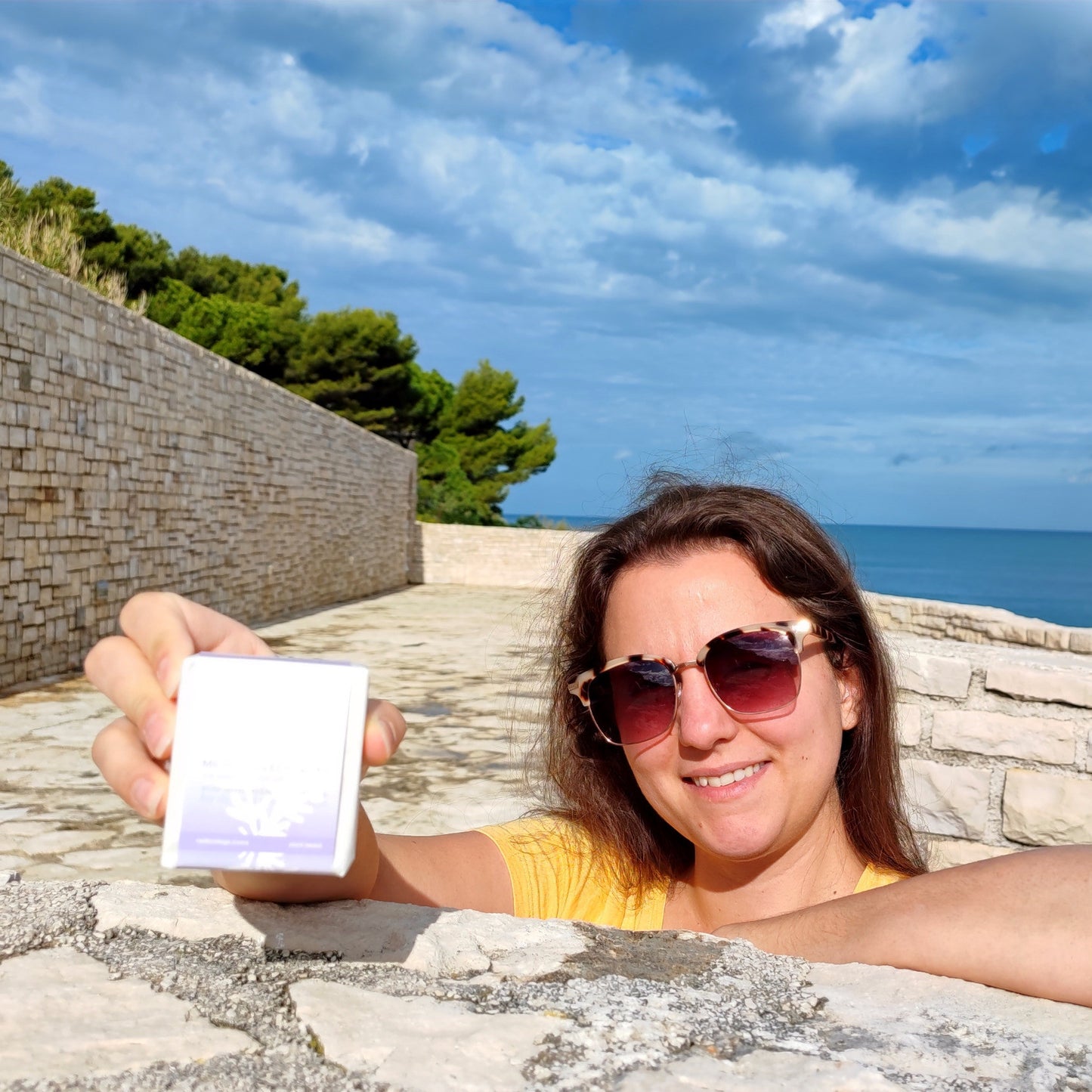 Za dušo in telo
Izpostavljeno

Provide details in each of the collapsible rows to give your customers the information they need to pick the best product.

Change the title and icon of each row to suit your brand.
Vonj

Prava sivka (Lavandula Angustifolia) iz cvetočih polj v Topolšici.
Podrobnosti o izdelku

Ta čisti izvleček prave sivke je zaradi svojih čistilnih in hranilnih učinkov nepogrešljiv pri vsakodnevni negi kože. 
 
Nečista, razdražena in rdečkasta koža je še posebej vesela, saj kožo pomiri in izenači njen ten. 
 
Ker je pH hidrolata blizu pH kože, ne poruši naravnega ravnovesja. 

Uporabimo ga:

kot tonik za obraz 
nega kože po britju 


Hidrolat bo vašo kožo pomiril ter preprečil rdečico in srbečico 
 


 
poskrbi za navlaženost kože, ob blagi rdečici pa lepo rjavo barvo 
 


 
Prhljaj in srbeče lasišče sta z redno uporabo hidrolata stvar preteklosti.
Hidrolat pomaga odstraniti odmrlo kožo in nečistoče, zato koža lasišča
ni razdražena. 
 


sproščujoče in pomirjujoče 

Na psihološkem področju sprošča in revitalizira hidrolat prave sivke.
Odpravlja glavobole, stres in duševno izčrpanost. Pomirja tudi otroke.
Po kopanju si lahko ta hidrolat nanesete ali pa ga dodate direktno v kopel. Dovolj bo žlica ali dve. 
Sestava

INCI: LAVANDULA ANGUSTIFOLIA WATER, LINALOL*,

*naravna sestavina
3 načini uporabe aroma olja prava sivka
Sprostitev

Consider adding information about your shipping and return policies.

Koncentracija

Consider highlighting your environmental commitments.

Zaljubljen/a v sivko

Consider describing a money-back guarantee or highlighting your customer service.
Sprostitveni duet
DESCRIBE HOW TO PAIR PRODUCTS TOGETHER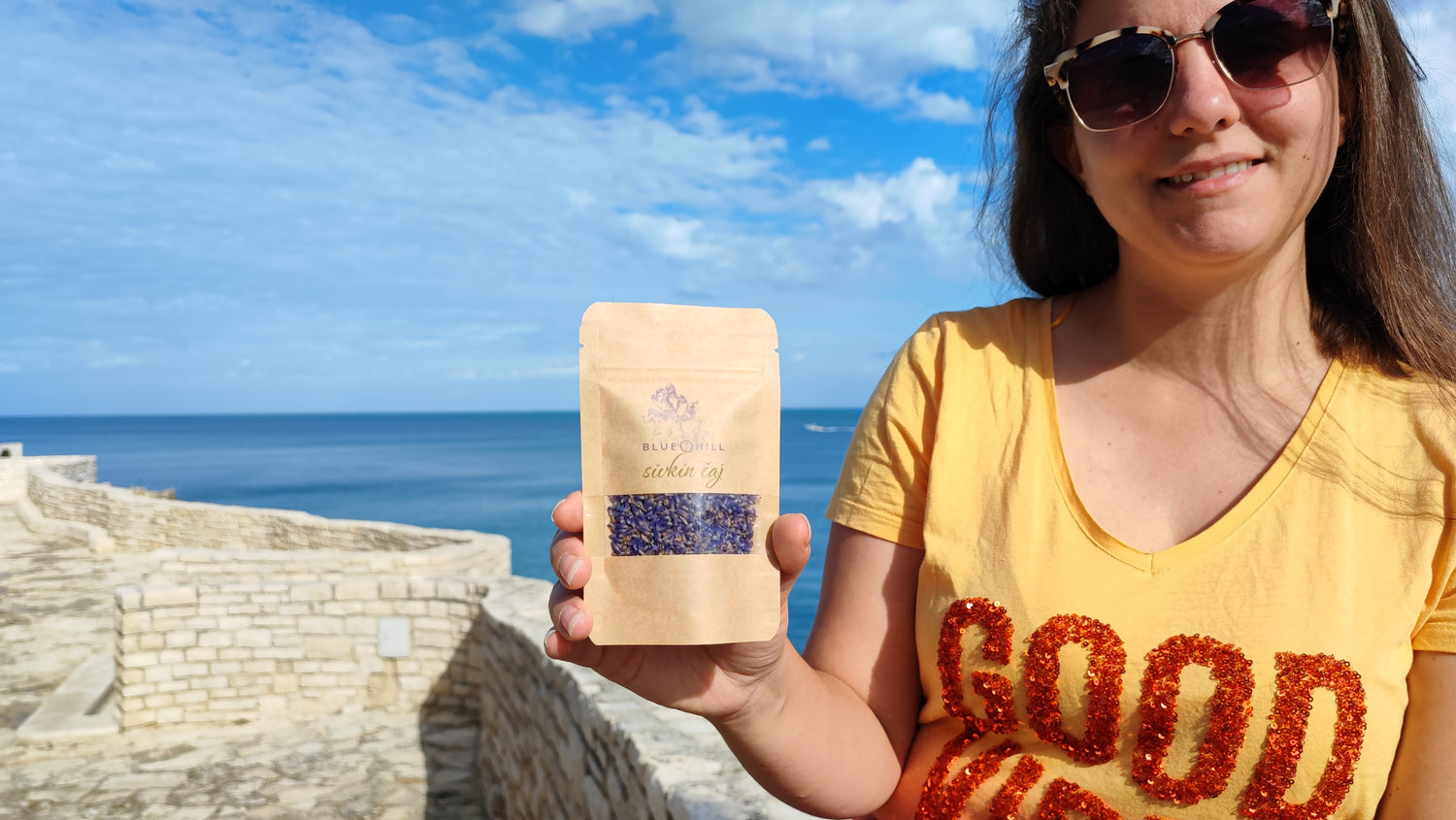 Sivkin čaj
Prava sivka je lahko tudi odličen dodatek k jedem in pijačam. Ročno žeto in naravno sušeno  cvetje prave sivke je osnova za sivkin čaj, ki ga pakirava v uporabniku in okolju prijazni embalaži.
Preberi več
Kako nastane eterično olje?
Eterično olje pridobiva s parno destilacijo svežega cvetja prave sivke. Destilacija poteka v bakrenem alembiku, ki omogoča, da se iz rastline izločijo vse učinkovine, ki jih cvetje vsebuje pred postopkom destilacije.
Zaveza kakovosti
Vsi izdelki v najini ponudbi so narejeni s pravo sivko, ki jo pridelava sama na ekoloških nasadih v Topolšici, ostale sestavine pa so preverjene vrhunske kakovosti, da je vaša izkušnja popolna.